We are seeking a bold disciple of Jesus to serve as a Director of Youth Ministries. This person will serve teen students (6th grade - high school) by nurturing faith and life in Jesus Christ. Crosstown is a congregation seeking to live-out a vision of "Passion for Christ, Compassion for People." We have a huge heart for our community that is partially lived-out by hosting a food distribution as well as hosting Spanish-speaking and Ethiopian congregations in our building. Check out the job description for this part-time job here.
John arrived in the Twin Cities in 2006 following 18 years of service as a pastor in Illinois. His primary responsibilities on staff at Crosstown include: leadership, teaching, and caring. John takes unique joy in being part of a congregation that is extending itself to serve in the community as a tangible expression of Jesus' grace and mercy. He has a heartfelt passion that the church exist to bless, encourage, and invite those who are not yet a part of it. John's training includes a degree from
Taylor University
(IN) as well as studies at
Ashland Seminary
(OH),
North Park Seminary
(IL), and
Fuller Seminary
(CA). John is happily married to his beloved, Marna, and the couple have two adult children: Ben and Andrea (along with son-in-law Nathan). He is also the proud Grandpa of two boys.
Pastor of Children & Adult Ministries
Polly is a native Minnesotan, although she spent the majority of her adult life in Chicago, where she studied Youth Ministry and Biblical & Theological Studies at
North Park University
. In 2020 Polly was granted "Ministry License" by the Evangelical Covenant Church. After living in Chicago for 10 years, her family and home state called her back. Polly joined the Crosstown staff in January 2011 as the Director of Youth Ministry. In March 2017 Polly's positioned changed to the Director of Children & Family Ministries. And again in 2020 her position changed to Pastor of Children & Outreach Ministries as she completed her Covenant Ordination. In 2021 she was upgraded to Pastor of Children & Adult Ministries. She believes that young people who are passionately in love with Jesus Christ are some of Satan's biggest threats in this world. As Polly says, "I love being able to walk alongside students as they explore and discover who they are in Christ!" When Polly is not at church, she LOVES being with her awesome husband and 3 boys.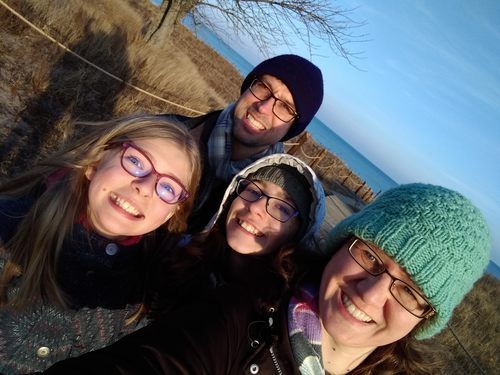 Office & Communication Manager
Kristi moved to Minneapolis in 2005 so that her husband could start teaching at
Minnehaha Academy
. Kristi earned her master's degree in Physical Therapy at
Concordia University Wisconsin
. After a decade of volunteering with Crosstown's marketing and online presence Kristi became the Communication Coordinator in 2019 and in 2020 transitioned to the Office & Communication Manager. She is excited to be a part of the team to support the ministries of this church and help to tell our story. This flexible schedule helps her to balance work and mothering her two teenage daughters. She enjoys creating things, morning coffee, concocting things (especially in the kitchen), listening to all kinds of music, and a good chocolate dessert.
Randall began faithfully serving as Crosstown's Custodian in September of 2015. Growing-up in a pastor's family, Randall was born in South Dakota followed by a number of years in Tasmania, Australia! We are thankful for all the hours Randall spends cleaning up after us and setting up for neighborhood events.
Aaron Berfeldt- Interim Worship Director
Elder Team (Lay Leadership)
Samantha Buchanan, Mark Ogawa, Amy Ponce, Kathleen Lindahl, Bill Weller, Heather Polhemus, Scott Hayes